เกี่ยวกับแบรนด์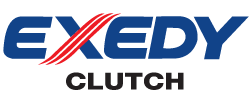 The first Exedy clutches were produced and sold in Japan in 1950 b y Exedy Corp. of Japan, which is today on of the w orld leaders in clutch manufacturers. In 1976, the company was awarded The Fourth Order of Merit by the Japanese government in recognition of its leadership in technological innovations in the automotive industry. Exedy is the inventor and patent holder of a technology that incorporates UF clutch-facing material, which is highly flexible, resilient to high heat, and has a long life.

In 1969, Siam Motors Co., Ltd., started importing Exedy clutches for local distribution. In 1996, the company entered a joint venture, Exedy (Thailand) Co., Ltd., to locally produce Exedy clutches. Today, the factory manufactures clutch discs and clutch covers for leading auto assemblers around the country. In recoginition of the company's excellence in management and manufacturing, Exedy was awarded ISO/ TS16949 and ISO9002 manufacturing standard certifications and ISO14001 environmental standard certification. Exedy clutches are manufactured under the company's unified global standard, using high-quality materials in accordance with stringent controls specified by Exedy of Japan, thereby guaranteeing product quality and ensuring the highest performance standards.

As the sole distributor of Exedy clutches in Thailand, Siam Motors Parts maintains an extensive nationwide distribution network and efficient inventory management to ensure that customers have ready access to our products and services whenever required. For optimum customer satisfaction, we offer and extensive product range, from general replacement clutches to high-performance racing models:

General Replacement: Designed to offer reliable performance for everyday driving
Heavy Duty: Suitable for commercial trucks as well as for driving routes that require frequent gear changes.
Racing: Ideal for amateur and professional race car drivers who require high maneuverability during gear changes. Thanks to the high performance of these racing models, drivers experience smooth gear changes, even at high velocity or while changing gears contiuously.